IT'S BEEN A HUGE YEAR FOR SURFERS FOR CLIMATE AND WE WANT TO START 2023 ON A HIGH WITH YOU ALL.
ABOUT THE RETREAT:
25 - 27 January 2023
Surfaris Surf Retreat - Crescent Head

A Surfers for Climate + Wavechanger exclusive offer:
Back to school special.
Packages include:
- 3 nights Accommodation
- Breakfast & dinner daily
- Young Henrys mini bar included
- Film Screening ticket included
Please note there is limited space available for our Big Wet Days Retreat experience onsite.
OPTION 1
King Private - ensuite room
Twin Share - ONLY $850.00p.p.
($1700.00)
OPTION 2
Twin Queen - Shared Amenities
Twin Share - ONLY $750.00p.p.
($1,500.00)
- Additional person for selected rooms = $300
Maximum 13 rooms available for our Wavechangers Retreat experience onsite. Get you cinema ticket via the link below.
CHECK OUT THE RETREAT HERE
BIG WET DAYS CINEMA SCREENING
IF YOU'RE INTO WATCHING FILMS UNDER THE STARS, CRESCENT HEADS IS THE SCREENING FOR YOU
FRIDAY 27TH OF JANUARY 7PM-TILL LATE
ABOUT THE FILM:

The path to enlightenment begins at the worlds deadliest wave. Gerry Lopez, Mr. Pipeline, is one of surfings most enigmatic heroes a Zen Buddhist on land who built his early career on aggressive surfing. Patagonia Film The Yin & Yang of Gerry Lopez-directed by award-winning filmmaker Stacy Peralta- follows one of the most influential surfers and surfboard shapers of all time as he brings surfing to new frontiers while pursuing stillness of body and mind. Come ride the lightning.  
Surfers can be the natural leaders for change in this country. There are millions of us here enjoying nature in so many ways. We needs as many of us as possible to stand-up (or lay down and boogie) to make a difference.
There's nothing to lose by doing something about climate change. Only good things to gain. Be sure to get along to one of these events and support your local Surfers for Climate venue partner - gonna be sick!

Keep it salty. Stay stoked, the SFC team.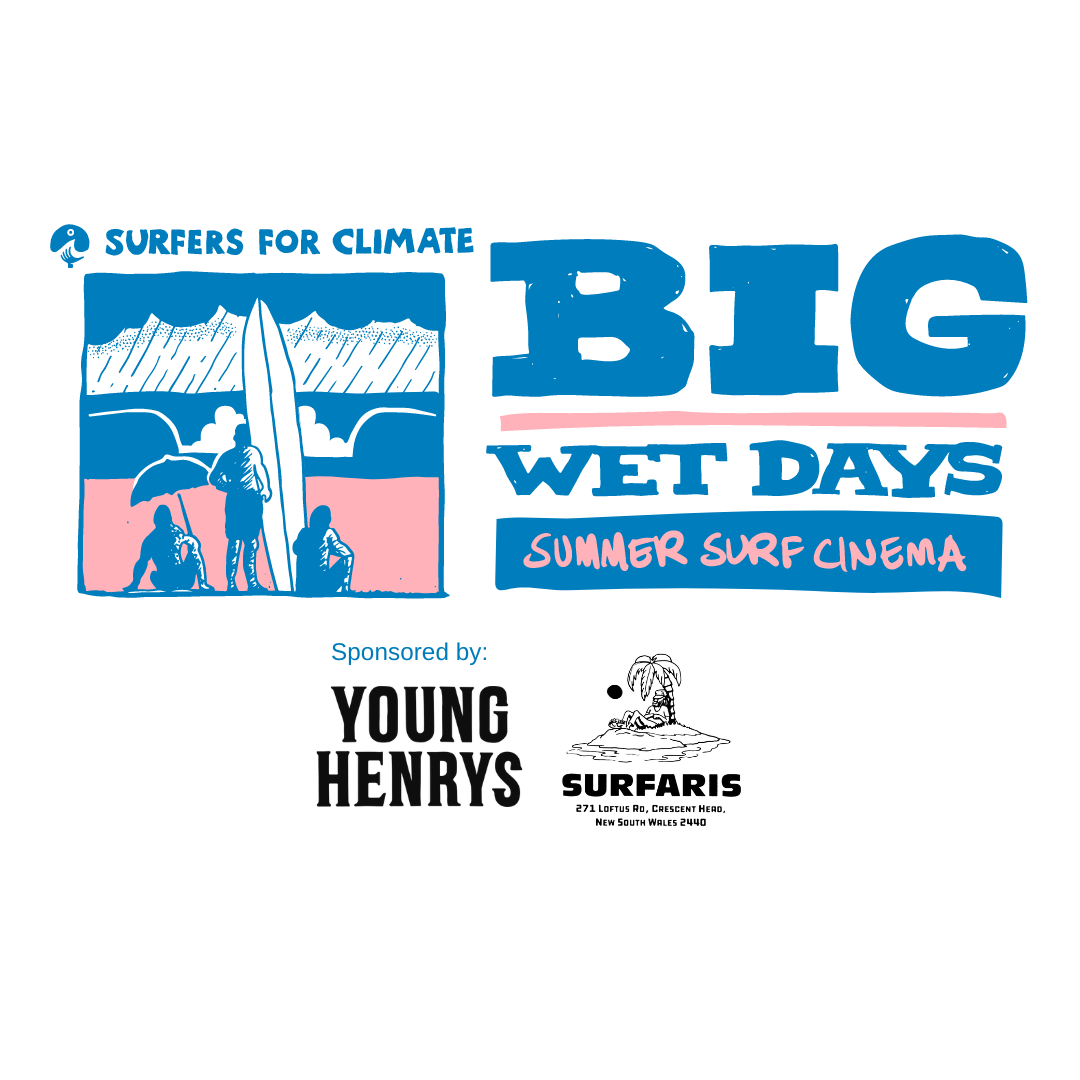 BOOK ONLINE
This is one location in a series of Big Wet Days that we are hosting along the east coast in January to February 2023 to encourage more salty legends to get on the party wave with us- we all need to be in it together to make it work.
TICKETS HERE